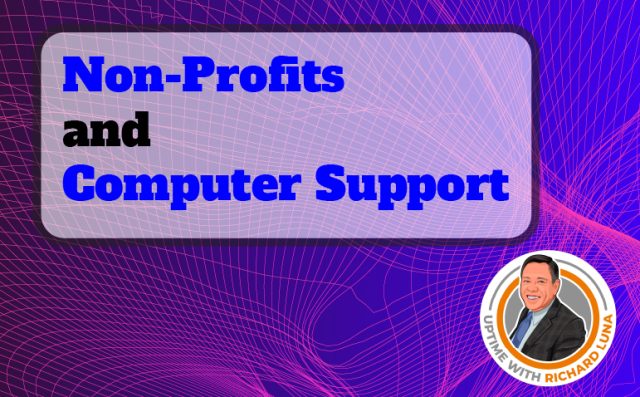 Passion, not money, is frequently what drives non-profit organizations. However, non-profits still require technology in order to function effectively and prosper. By automating processes, facilitating communication with partners and volunteers, and raising the organization's visibility to potential contributors, technology may assist growth.
These suggestions will enable you to better manage the IT requirements for your non-profit, regardless of whether it is just getting started or searching for methods to increase productivity. The following video in the Uptime with Richard Luna series is available here. This blog post will discuss the benefits of investing in managed or IT services for your nonprofit organization as well as how to choose the best vendor.
All Has to be Seamless
The tech experience for your internal staff and end users must be flawless when it comes to non-profit IT services. Your services should be simple to set up and should work nicely with your current tools. They should also offer an easy-to-use interface; users shouldn't feel intimidated by technology when using your website or a hosted application.
Provide a Unified Interface 
A unified interface for managing your environment is one of your organization's most important offerings. You might have one or more environments for platforms or applications. Additionally, you might have one or more partner companies or support networks that offer you internal or external services like email servers, hosted apps, and data storage.
It can be necessary to integrate, monitor, and manage these various environments and partners through a single interface. This should be something that your non-profit IT services partner can assist you with. In order to have a unified picture of all your activities, you'll want to make sure the partner can manage your environments regardless of where they are hosted using a single pane of glass.
Finding the right partner
More important than price is finding the right IT partner for your charity organizations. It's about attending to your demands, which include your capacity for teamwork, operational management, and outcome measurement. Consider your organization's aims and objectives carefully before looking for non-profit IT services. Do you need a complete solution? Will you need to hire internal personnel for the project? What are the biggest IT problems you face for charities? All of these are crucial inquiries to take into account while choosing the best partner and customer service for your nonprofit.
Conclusion
Choose a partner who will assist you in achieving your strategic objectives when it comes to non-profit IT services. Make sure the partner can deliver the caliber of service you require and can scale as your demands increase. Additionally, make sure the partner is dedicated to making a positive social effect and can demonstrate how their products and services are benefiting other nonprofit organizations.
With the right partner like Protected Harbor and the right level of support, there is no limit to what your non-profit can accomplish. Protected Harbor is dedicated to offering scalable and affordable solutions and is aware of the unique challenges faced by non-profit organizations. We have spent years planning IT infrastructures for NGOs to ensure they receive the IT support required for both short- and long-term objectives while being productive.
To find out more about how our IT solutions may assist your non-profit organization in achieving its objectives, get in touch with Protected Harbor for a free consultation and IT Audit.