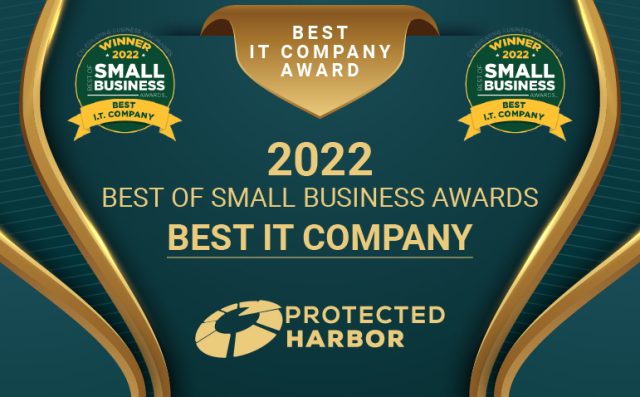 Protected Harbor Named Best IT Company of 2022 by Best of Small Business Awards!
The Best of Small Business Awards recognized Protected Harbor, a family-run Managed IT Service Partner in New York, as the Best IT Company of 2022. Every year, the Best of Small Business Awards honor the accomplishments of small and medium-sized American companies. This award recognizes small businesses that go above and beyond to give their clients the finest possible service. Customer satisfaction, innovation, and feedback are the main factors that determine the winner.
Protected Harbor CEO Richard Luna expressed his gratitude to the Best of Small Business Awards, saying, "We are honored to have been selected for this prestigious award and we are proud that our hard work and dedication have been recognized." We are appreciative that our customers trust and permit us to eliminate their technology problems, allowing them to focus on their business and mission."
The Best of Small Business Awards were really given out by the Small Business Expo, which is the biggest and most well-liked business-to-business networking event, trade fair, and conference in America. It so happened that this past year at the Small Business Expo in New York, Protected Harbor was one of the most well-liked exhibitors.
Previously, Protected Harbor was also recognized as a top cloud computing company in the US by Goodfirms, and as a top managed service provider by DesignRush.
The Best of Small Business Awards has honored Protected Harbor for their dedication to client satisfaction. Voters acknowledged that Protected Harbors' customer service philosophy goes beyond resolving issues and closing tickets. In order to enable Protected Harbor to operate as an extension of their team, the company seeks to establish human connections by getting to know its clients and their businesses.
Protected Harbor takes great satisfaction in offering the greatest IT services to its customers. Their skilled team is committed to providing their clients with the best possible services and goods. The business aims to provide its customers with the most cutting-edge solutions for their IT requirements.
The company has implemented state-of-the-art technical solutions for managed services, cloud migration, networking, and collaboration for more than 14 years. The personnel at Protected Harbor is extremely skilled and informed in every facet of IT, including cloud computing and network security. To guarantee that clients obtain the most recent solutions, the organization stays abreast of emerging trends and technologies. They are aware of the rapid advancements in technology and make an effort to keep up with them.
The way that Managed Services are provided by Protected Harbor is revolutionizing company IT. Protected Harbor's IT professionals will work with you to develop operational maturity, reduce costly downtime, and diminish unpleasant daily tech difficulties by implementing technical and digital strategies that align with your business objectives.
Among the many IT firms in the region that focus on a range of services are Protected Harbor. These include cloud migration, VoIP phones, IT infrastructure, IT support for remote workforce, and data center hosting. The business sets itself apart from other MSPs by putting the needs of its clients first. They also provide unmatched customer service, 24/7/365. Whether it's late at night or early in the morning, you can always rely on them to take care of any issue you have.
In the upcoming years, Protected Harbor hopes to keep offering its clients the best IT services and solutions. The primary goal of the organization is to establish a rapport with their clients and gain an understanding of their business in order to function as an extension of their team. Their business is mostly driven by client recommendations, and they have a 98% customer satisfaction rate, which is indicative of this connection's outcome. You won't ever need to hire another IT company after Protected Harbor. Get in touch with us right now to discover what excellent customer service and productive teamwork look like.