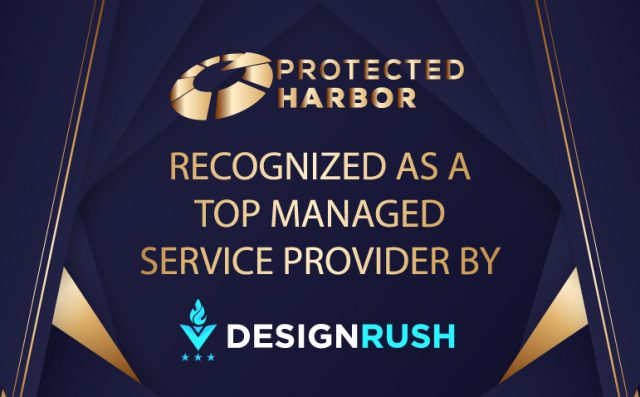 The leading healthcare IT services provider, Protected Harbor, has been recognized as one of the Best Managed Service Companies by DesignRush, a B2B (Business to Business) marketplace for agencies. This award is based on average feedback scores, team size, client reviews, expertise, portfolios and more.
"We pride ourselves on our commitment to our customers and our ability to innovate based on their needs. We are grateful to be recognized for our efforts," said Protected Harbor CEO, Richard Luna. "
Previously, Protected Harbor was also recognized as a top cloud computing company in the US by Goodfirms.
Protected Harbor, a leading Managed IT Services Company for healthcare organizations, medical practices, and non-profits, was chosen by DesignRush for demonstrating a commitment to providing robust, reliable, and secure on-premise, private cloud, and remote managed services. DesignRush helps in assisting companies with selecting the ideal firm that can best represent their brand, comprehend their objectives and collaborate successfully with them. Protected Harbor's 90+ Net Promoter Score for their Managed IT Services, Network and Infrastructure Services, IT Help Desk, and IT Support made the company a perfect fit.
Protected Harbor helps local and national organizations use technology to power their purpose, and harness smart IT services and strategy to harness technology to meet their mission. The company has more than 14 years' experience deploying advanced engineering solutions centered on collaboration, cloud migration, networking, cyber security, and Managed Services. With Protected Harbor, businesses and organizations can have peace of mind, knowing their data is secure and teams are productive.
The award of Best Managed Service Companies by DesignRush recognizes Protected Harbor as a top IT Company and technology consultants whose forward-thinking approach to providing managed services is changing the landscape of the business technology. With digital and technological techniques that support your company's objectives, Protected Harbor's IT specialists will help to reduce stressful day-to-day tech issues, minimize any costly downtime, and improve operational maturity.
Like many other local IT companies, Protected Harbor helps with everything from IT support, remote workforce solutions, and IT infrastructure to cloud migration, VoIP phone systems, and data center hosting. But unlike traditional MSP's, we pride ourselves on our customer's happiness. That's why we ensure our 24/7/365 customer service is second to none. Whenever you need us, we're always here. Got a problem at 2:00 am? A live person will be there to answer your call and resolve the issue before sun-up.
Protected Harbor's approach to customer service goes beyond just solving problems and closing tickets. We aim to connect on a human level, getting to know you and your business so we can function like an extension of your team. That is why over 90% of our business comes from client referrals, and we have a 98% customer retention rate. Protected Harbor is the last I.T. company you will ever have to hire. Contact our team today to experience what a true partnership, and excellence in customer service is like.