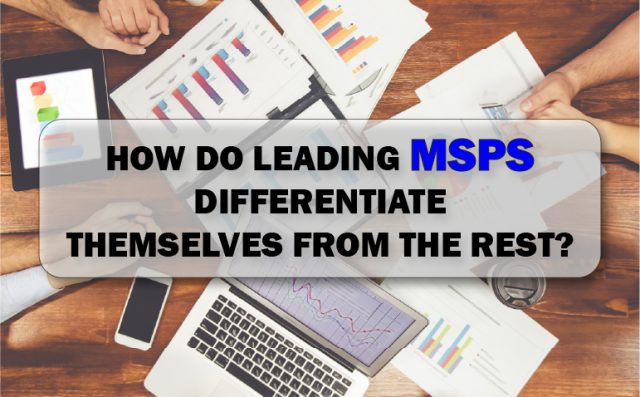 From reactive to proactive support, MSP's operating approach represents a fundamental shift. Therefore, preventing IT failure while assuring peak performance must be one of an MSP's key performance indicators.
A growth-oriented business model is the foundation of everything. The most prosperous Managed services provider concentrates on providing real value to their clients, expanding their operations, and always enhancing their services. MSPs can concentrate on growing the quantity of business they conduct with current clients, bringing in new clients, or raising the average value of each client in order to expand their operations. Therefore, exceptional IT service providers go beyond simply keeping your IT running; they also deliver good commercial value. Here are a few things that make contemporary MSPs unique.
Advanced security offerings
Especially for small to medium-sized organizations, Cyber-attacks are commonplace. Threats have increased in frequency, specificity, and complexity. A report from Accenture titled "Cost of Cybercrime Study" states that only 14% of small businesses are equipped to fend off 43% of cyberattacks. As opposed to waiting for the worst to happen, a good Managed services provider should make sure you are protected from online dangers. A skilled MSP may identify vulnerabilities in advance and fix them before they become an issue, rather than dealing with cyber-attackers or ransom demands as they occur. Yes, some attackers are able to get past even the most advanced systems. But effective threat prevention will reduce the risk of an unforeseen event. Your It services provider must provide a thorough strategy that can stop even
Cloud services and automation
Modern Managed services providers are utilizing automation tools and cloud-native solutions to upgrade the caliber of their services. Scalability and on-demand disaster recovery are features that cloud solutions offer to their customers. Automation increases productivity while lowering reliance on people, which minimizes human mistakes or discrepancies.
Innovation
The best IT service providers concentrate on innovation because it can help their clients. These businesses understand the value of keeping up with current market trends. You can use digital technologies with their assistance to outperform rivals. The best MSPs alter their products based on trends, region, and industry, rather than being committed to their strategy and technology. For instance, every year, new types of cybercrime emerge. A business that prioritizes innovation will know how to protect you from additional attacks.
Value creation
Leading MSPs consult and offer advice on the top tools or technology. They work with you to develop a special program based on your strategic aims and business objectives, oversee the program's implementation, and manage the day-to-day management of those vital operations. To continue providing value to their clients, IT services providers must stay abreast of new advances and provide new services.

Customer Experience (CX)
CX has already been the buzzword for the last half a decade. The concept was initially driven by big consulting firms and is now necessary for IT customers. As modern users prefer being at the center of things, they expect self-service via knowledge forums, chatbots, and service catalogs, i.e., omnichannel communication. A helpdesk-managed service provider supports these areas to improve your NPS and CSAT. Your in-house team can focus on the strategic aspects of improving tech adoption.
Adaptability and Resilience
The disruption caused by the pandemic demonstrated that adaptability and resilience — from both managed services providers and their customers — are essential to survive. As companies adopt a hybrid working culture, MSPs must shift their operating model to suit the situation. E.g., managed services providers need to equip their employees and clients with the right tools to support remote working remotely.
 Conclusion
Top MSPs are adept at staying ahead of the curve, retaining consumer interest, and providing value-added services that improve the quality of life for their clients. Managed services provider must stay on top of the most recent developments as technology develops and alters how business is conducted. it services providers must keep up with the most recent technical developments and client expectations in order to stay ahead of the curve and provide top-notch service to their clients.
The team of IT professionals at Protected Harbor's is committed to offering its customers solid IT solutions that are tailored to their particular company requirements. Our system gives clients access to their IT team anytime they need it, no matter where they are, thanks to its remote monitoring and administration features. We specialize in small- to medium-sized enterprises and provide scalable and flexible services to meet client demands as a hudson valley new york manage service provider. We also provide data recovery, SLAs, and 24/7 on-site or remote monitoring. We provide a free consultation to assist you in choosing the ideal approach for your company. Call us right away!